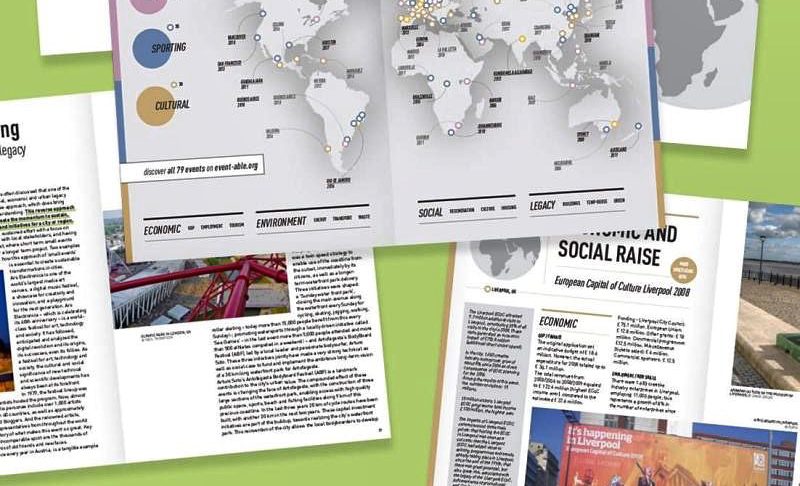 Event – able @ Fabriano Citta' Creativa
Within the XIII Annual Conference of Creative UNESCO Cities
at the Rinasco Pavilion, Palazzo del Podestà
Fabriano, 13 June 2019 – Olympics, GMG, G8, large events under the lens, to evaluate the impacts and inheritance in terms of development and urban regeneration. International cases from Genoa 2004 to Milan 2015, passing through Vancouver 2010 and London 2012, the strengths and weaknesses are analyzed and is becoming clear the need for an integrated design that takes into account requirements and opportunities from the economical aspect to social one, from the environment to culture.
As part of the XIII Annual Conference of UNESCO Creative Cities, which will be hosted in Fabriano from 10 to 15 June, on the Agenda the Talk Event-Able, the cities and the legacy of the great events, organized by PPAN, communication and networking for the built and expected Thursday, June 13th at 10.00 am to the Rinasco Pavilion, Palazzo del Podestà.
Guests of the meeting Mario Kaiser, Design Advisor & Project Manager for World Events (Principal Designer Advisor of the London 2012 Olympic Games, consultant for other great events such as Milano Expo 2015), Renato Quaglia, European Festival Association EFA-AEF and FOQUS Foundation, Susanna Sieff, Sustainability & Vip Hospitality Foundation Cortina 2021, Sonia Pallai, Consultant for the Florence Tourist Studies Center.
The main objective of the initiative is to present the unpublished publication from the title Event-Able, Host Cities of World Events (in English, 115 pages, PPAN publisher, CTS printing) dedicated to the relationship between world events and host cities, with particular attention on the legacy and physical transformation of places. The publication, designed as a service product, with journalistic  cut, analyzes some Italian and international cases – from Milan to Palermo, to Parma, Cortina and Matera – reporting 20 of the 79 great events that will be online on the platform www.event -able.org from the day of the presentation to Fabriano. Many contributions that outline the context including Flexible Urbanisms by Ricky Burgett, Events and City Making by Alejandro Gutierrez, The Great European Capitals of Culture, Di Lucio Argano, RECODING Palermo Di Maurizio Carta, Milano Today, After The Expo by Stefano Gallizzi .
The editorial project was born from the idea of ​​Mario Kaiser and developed in collaboration with PPAN. Collects a World Events live database since 2000, classified according to the nature of the event according to the categories Sport, Culture, Economics and Religion, starting from the assumption that the great events of international scale can represent for cities an opportunity to plan and manage the future in the medium and long term. The result is a unpublished database, built through dialogue with a community of experts, professionals and students and designed as a tool for the actors of the supply chain, from the City Makers, to the PAs, to the real estate and design world, up to specialized consultants.
"The cities around the world – explains Mario Kaiser, creator of the initiative, Design Advisor & Project Manager for World Events – are at the center of the international agenda with regard to political, economic, social and environmental aspects. They represent one of the most important challenges of the contemporary world. In fact, today 54% of the global population lives in urban areas and is estimated that by 2050 this percentage will increase until 66% reach. The cities are complex machines and we must take care of it. "